Pearl White Granite Flamed Flooring Tiles For Exterior Projects

Famous in most buildings with White Granite Floor Tiles, the Pearl White granite tiles are also perfect for walls and other parts of a building's interior and exterior. You should not be worried about Our White Granite Floor Tiles' durability since granite is known to be strong material. Pearl White Granite is one of the purest white colors of Granite Stone from MQ STONE, it is the kind of flooring you can trust in private and public spaces. It is quite famous not only in China but in the rest of the world as well.
Natural stone is extremely long-lasting, especially when properly sealed. Pearl White Granite Tiles, on the other hand, is the toughest of the bunch. Because it is resistant to scratches and chips, it is an excellent choice for high-traffic areas, active families, and pet owners. Pearl White Granite flooring that has been properly cared for and installed can last a lifetime.
Polished granite flooring tile is stunning, but did you know that different finishes can be used to customize the look of your granite flooring? If you like the classy, matte finish of natural travertine, you can get it in Chinese Pearl White granite with added durability. Many granite tiles from MQ Stone Factory are also available in matte or brushed finishes, as well as a variety of granite colors.
Chinese White Granite Tiles | Standard Sizes | MQ STONE

PureWhite Granite Tiles Size

12"x12"x1/2", 305x305x13mm,

18"x18"x3/4",

457x457x20mm,

24"x24"x3/4",

600x600x20mm,

Flamed Tiles 600x600x20cm

Available Thickness
others thickness 13mm, 15mm, 16mm,18mm,20mm,25mm,30mm,40mm,the thickness as customize
Pearl White Granite Tiles | Photos | MQ STONE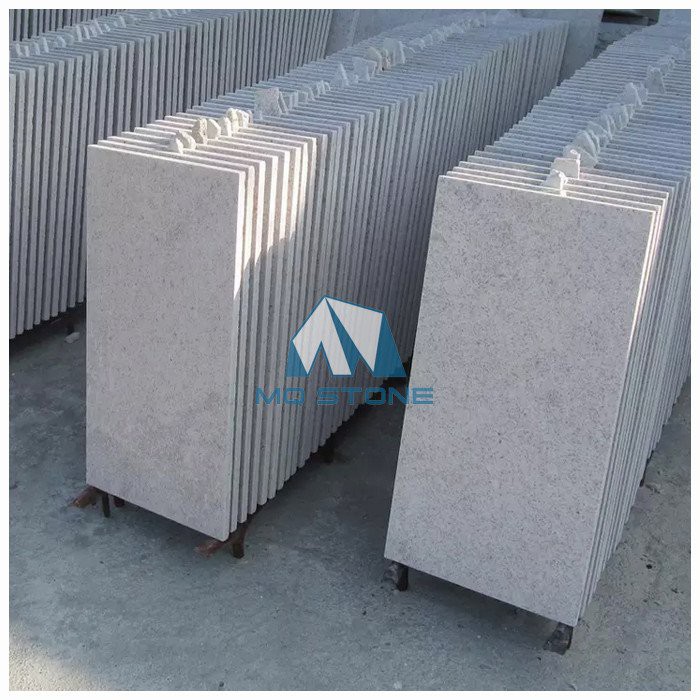 Choose Granite Tiles | FAQ

It is important to note that granite tiles for floors come in different sizes, and at MQ STONE, all the flooring as mentioned above tiles are available in the following dimension sizes.
1. 610 × 305 × 10 mm
2. 600 × 400 × 15 mm
3. 400 × 400 × 15 mm
4. 600 × 300 × 20 mm
5. 600 x 600 × 20mm
6. 610 × 610 × 15mm
7. 305 × 305 × 10 mm
Granite Project Tiles and Cut-to-Sizes Tiles are also can be customized.
Pearl White Granite Factory | Processing & Packages

Chinese Pure White Granite Flooring & Countertops | Quality Control